Create a Product
To create a product simply click on your email in the upper right corner of the application. A menu will appear with the option to create a new product.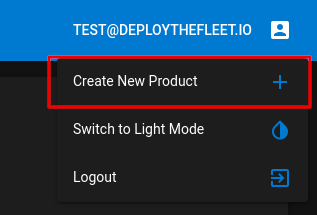 The create product page will appear. Enter the name of the product and click Create

Delete a Product
To delete a product simply click on the red trash icon in the top right corner of the Dashboard page.

You will be asked to confirm that you wish to delete the product.
WARNING: Deleting a product will remove all firmware and device information that exists for that product. This data will be removed permanently.